Space Owner Guide
YourParkingSpace is UK's leading online marketplace for renting out your unused parking space and earning money to fund your dreams, offset your bills or simply help a local motorist find a safe place to park.

We're currently rated 4.5/5 on Trustpilot, out of over 75,000 reviews earned from our Driver and Space Owners alike. Got an unused parking space? Join our community, list your parking space for FREE! Start your listing here.

Getting Started
You are just a couple of minutes away from joining our community of private and commercial Space Owners across the UK who are earning money by renting out their unused or underutilised parking spaces.

It's FREE to list your space with us and there are no hidden fees. We bet you're asking, "Well, what's in it for you?" YourParkingSpace adds a 20% onto the price you list which then appears on our website as a total cost for the Driver to pay. This means, renting a parking space on the YourParkingSpace platform is absolutely free and it only takes a few minutes. Below is a simple user's guide on everything you need to know about how to list your parking space with us.

Once listed, simply sit back and let the bookings roll in. We do all the hard work for you and you reap the rewards. And if we haven't mentioned it already... it's completely FREE!
Step 1: The basics
📍Location, features and more
Add the location of your parking space including full address details and map location, this is populated based on the postcode entered but if it's slightly out just click and drag to exactly where your space is. Keep in mind, drivers can "get directions" to your parking space which leads them to the exact location the pin is placed.
Tell us what type of parking you have so drivers can make an informed decision about where they are booking. Select single space, multiple (if you have more than 1 available parking space) or entire car park (if you're a commercial owner).

Select any features and identify the type (driveway, lock-up garage, car park or on-street). Identify any size restrictions, and access details required.
❗️IMPORTANT: We will never publish the full address of your parking space on the website. Only following a successful booking will the driver receive these details.
Step 2: Get ready for drivers
📅 Bookings, settings, calendar, price
Set up your availability and let us know what type of booking you are wanting to receive whether these are monthly and/or hourly and daily bookings.
Your pricing model comes next. Our Dynamic Pricing tool will automatically adjust your price to match demand, ensuring you maximise your annual earnings from your space, or to set your own price you will need to choose Static Pricing.
Your listing description is automatically generated based on the information you have provided us with. The description is meant to be a brief overview of your parking space to assist drivers in their understanding of its location, features and suitability, prior to booking. Override the locations with your own, or add additional information.
Your post-booking instructions are sent to drivers who book your space. This is where the full address is provided as well as any additional information based on the features you have provided. This is meant to provide instruction to people who have booked your space on how to access and use your space.

❗️IMPORTANT: Do not put any personal details in your description as this information is made public e.g. phone number, address or email address.
Step 3: Build the picture
📷 Photos and street view
Upload photos to increase the chances of receiving bookings. Our drivers favour listings with images as it gives them a great picture of where they will be leaving their vehicle. Smartphone snaps work a treat, but screenshots from Google Streetview also work just as well. We recommend at least 2 photos to give your listing the best competitive edge!
Your street view is generated based on where the pin was placed back in Step 1. You can adjust the Street View direction via the preview so that it's directed at your parking space, if possible. Please ensure that the street view is focused on the street, and not inside any buildings.
What to expect as a Space Owner
Your Listing
Your space will appear in the search results and customers can begin placing bookings from this date, in line with your availability settings.
Hosting
On booking your parking space, drivers are provided with your secure post-booking instructions. These let people know the full address and your contact details, as well as whether or not they need to arrange collection of access equipment. They may contact you if they need assistance in finding the space.
Bookings and Earnings
You will receive a confirmation email breaking down the customer's booking, along with all the contact details you might need. To get paid, make sure that you've added payment details to your account, payments will be processed to you on the first business day of each month.
🔔 Don't forget to click 'Finish'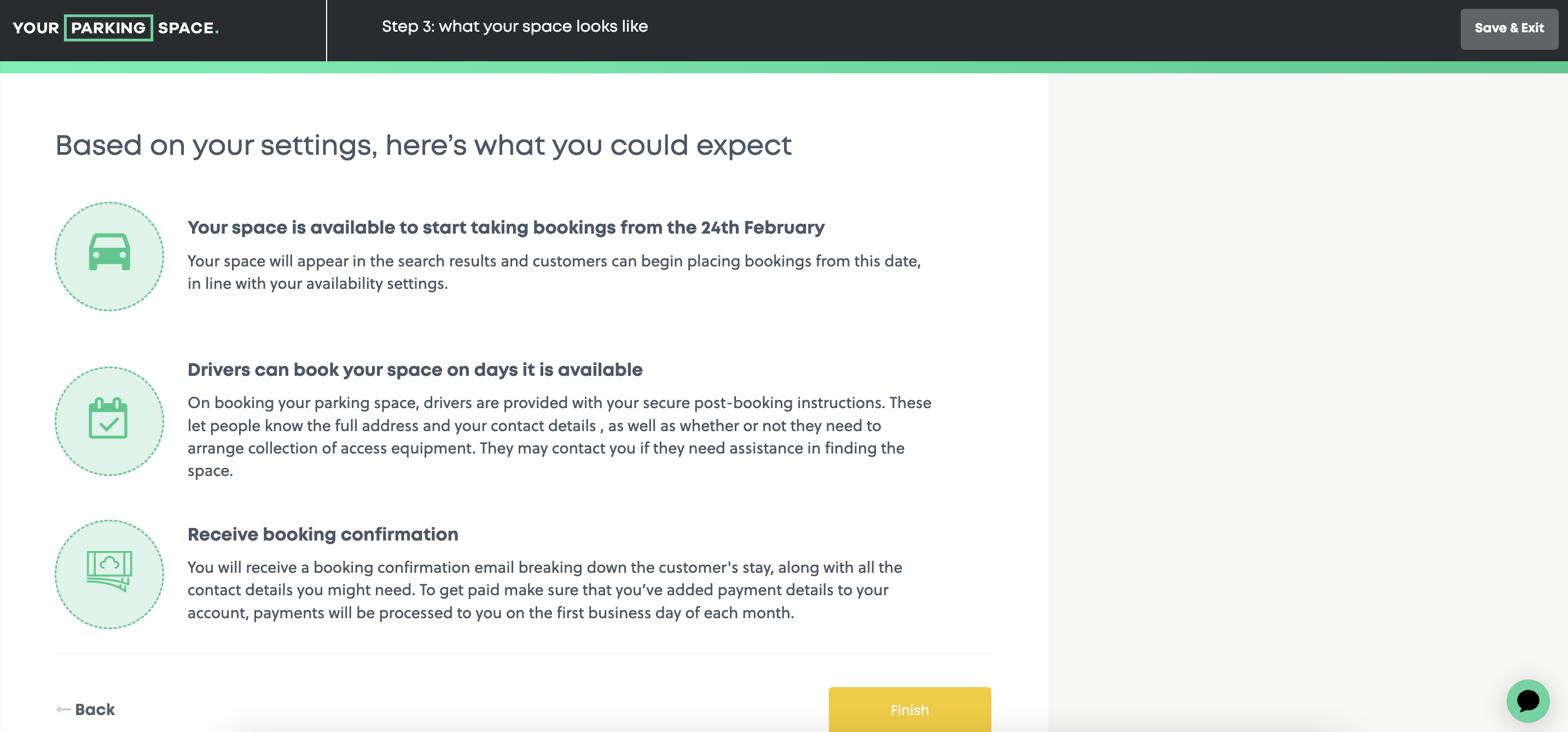 Contact Us
YourParkingSpace Office Hours
| | |
| --- | --- |
| Monday: | 9am - 5pm |
| Tuesday: | 9am - 5pm |
| Wednesday: | 9am - 5pm |
| Thursday: | 9am - 5pm |
| Friday: | 9am - 5pm |
| Saturday: | 10am - 5pm |
| Sunday: | 10am - 5pm |