What should I set as my space availability?
What should I set as my space availability?
When listing a space you will need to provide information on the dates and times the space is available.
This is to ensure that no bookings are made on dates / times your space will be unavailable.
Setting availability at the time of listing
When initially listing your space, you will need to provide information on your basic availability.
Your basic availability is when your space is available on a day to day basis. For example -
Space is available Monday - Friday 9am - 5pm
Space is available 24/7
Space is available Friday - Sunday
The majority of our spaces are available 24/7 so this is the default.

If your space isn't, don't panic - just select no and input the times and dates you are able to accept bookings!
You will need to specify if you are able to accommodate overnight bookings. Bear in mind that your space doesn't need to be available 24/7 to allow overnight bookings.
For example, if the access hours of the location is 7am - 11pm each day, but you are happy for the car to be parked at 6pm, and picked up again at 8am, you can allow overnight bookings!
Be aware that potential drivers will be unable to book parking spanning across more than one day when you specific access hours in place, and the overnight booking option set to no.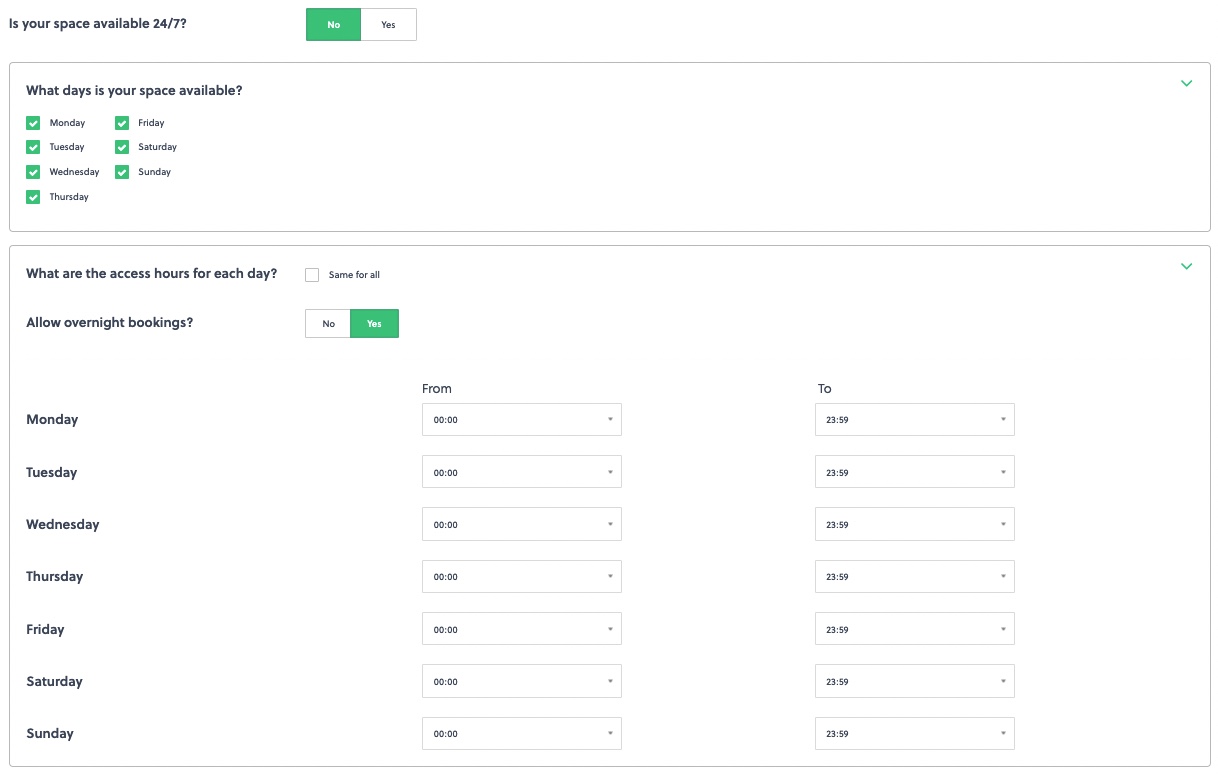 You can then select 'Next' to save your availability and move onto the next step!
Amending availability once a listing is live
We understand that things change, and you may need to update your availability due to new circumstances.
You are able to do this at any time via your account!
Login to your account

here

Locate the listing you wish to amend

Click 'availability'

Amend to your new available times and days!
Things to remember
Amending your access hours may have an impact on any bookings already scheduled at your space

If your set your availability to 24/7, your space will automatically be available for overnight bookings

We will only allow you to accept monthly bookings if your space is available either 24/7, or Monday - Friday.
Specific day availability
We know that you may have specific days and times in which you are unable to accommodate bookings. If this is the case, you can update and amend availability for individual dates!
Login to your account

here

Locate the listing you wish to update

Click availability

Along the top bar, select 'Availability Calendar'

Click on the day(s) you wish to amend

In the right hand side pop up box, amend the date as required

Click Save changes!
Should I list my space for monthly or daily bookings?
Our drivers have a need for daily, hourly and monthly parking.
Daily and hourly parking benefits drivers attending events, visiting family and friends, popping to the shop or going to the airport.
Our monthly bookers are commuting, storing a second vehicle or spending long periods of time away for work or other commitments (to name but a few).
So whatever your preference, we are sure there's a driver out there for you!
Can I only rent my space out for monthly bookings?
Of course! Here at YourParkingSpace we specialise in long term (monthly) bookings. We have a team of professionals waiting to assist you with the leasing process!
Just ensure that when listing your space you select 'No' when asked if you would like to accept daily and hourly bookings.
If circumstances change and you want to amend the bookings you are able to receive once the listing is live, you can amend this via your account.
Login to your account

here

Locate the listing you wish to amend

Click 'manage listing'

Scroll down to 'rental type and pricing' and click change

Use the toggle to amend the bookings your space can receive!
Contact Us
YourParkingSpace Office Hours
| | |
| --- | --- |
| Monday: | 9am - 5pm |
| Tuesday: | 9am - 5pm |
| Wednesday: | 9am - 5pm |
| Thursday: | 9am - 5pm |
| Friday: | 9am - 5pm |
| Saturday: | 10am - 5pm |
| Sunday: | 10am - 5pm |