Does my space need to be available all the time?
Does my space need to be available all the time?
No, you have complete control over when your space is available to rent. Chances are, there will be someone out there who needs to park at the exact same hours you don't!

Here are some of our most common, but you can pick and choose as you like.
The Full-Timer 24/7
The Working Class Man Mon-Fri 9-5
The Weekend Warrior Sat & Sun only
Setting availability at the time of listing
When you first list your space, you can set your access hours.
If you have some specific dates that you can't accept bookings, you'll need to wait until after you've finished listing to make these changes (say June 16th when you're leaving your car home while you drink away the pain that your cousins ferrets' are getting married before you).

The majority of our spaces are available 24/7, so that's the default. But if your space isn't, don't panic- there are plenty of listings with varying access hours, all you have to do is toggle this nifty little switch.
Selecting "no" here opens plenty more options; giving you the flexibility to decide when you do (or don't) want to accept bookings.

If there are any days you consistently can't accept bookings, untick the box at this point.
The example above shows a Parking Provider who only accepts bookings during the week while they're at work. This means that unless they manually go into their advanced availability calendar and mark a specific date as being available, we will never confirm a booking on a Saturday or Sunday.
But wait, there's more..
In addition to selecting the days which are available, you can also specify the hours on those days which are available.

First, you have the option to choose whether each day has the same access hours, this is simply to save you time. If Mon-Fri is all 9am-5pm, we don't see why you should have to click the same two buttons 5 times each!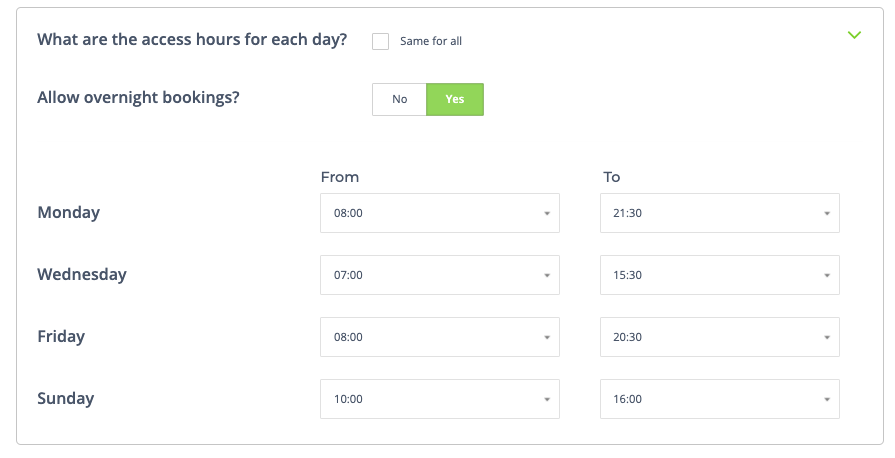 However, if each day does need its own separate hours for whatever reason, simply uncheck "same for all" and select the hours the space is available on each day of the week.
Why would I want an overnight booking, if my space isn't available 24/7?
You have the option to allow overnight bookings or not. Some spaces might only be accessible between specific hours but it's no issue if cars are left overnight.
An example of this might be if you have nosey neighbours who will complain if cars are coming and going at 11pm, but it doesn't matter if the car is physically parked on your driveway at that time.
Potential Drivers will be physically unable to book parking spanning across more than one day when you have access hours set and this option set to "no".
Simple as that!
Click "Next" your settings will automatically be saved, and you'll then see a non-editable preview of what your space availability will look like.
Some things to note:
1. No matter what your availability settings, there's no restrictions on accepting short-term bookings. The same cannot be said for monthly bookings.
We'll only show you the option to set a monthly price if your space is available either 24/7 or Monday - Friday. It's just simpler for potential Drivers that way.
2. If your space is available 24/7, there's no way to prevent Drivers from being able to book overnight.
3. You can update your access hours at any time, simply go to My Account > Manage Listing > Access Hours.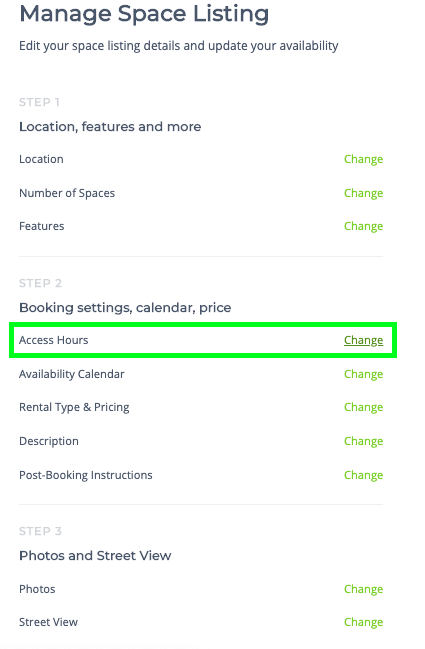 If you need to make some one-off changes, you can do this through our advanced availability calendar.
Contact Us
YourParkingSpace Office Hours
| | |
| --- | --- |
| Monday: | 9am - 5pm |
| Tuesday: | 9am - 5pm |
| Wednesday: | 9am - 5pm |
| Thursday: | 9am - 5pm |
| Friday: | 9am - 5pm |
| Saturday: | 10am - 5pm |
| Sunday: | 10am - 5pm |